Jessica Peritz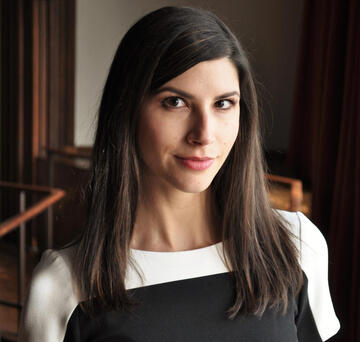 Specializations:
Western music of the seventeenth through early nineteenth centuries, especially opera and vocal music; Italian cultural history; literature and philosophy of the long eighteenth century; voice studies; gender and sexuality studies; disability studies.
 
About:
Jessica Gabriel Peritz is a cultural historian of music, literature, and philosophy in the long eighteenth century, with a particular focus on representations of bodies and politics in Italian opera. Her prize-winning first book, The Lyric Myth of Voice: Civilizing Song in Enlightenment Italy (California, 2022), traces the origin of Western liberal ideologies of voice back to a network of eighteenth-century Italian musical and literary practices. Drawing on a range of approaches and frameworks—including gender studies, disability studies, anthropology, mythology, literary theory, and historical musicology—the monograph argues that Italian Enlightenment attempts to rebrand song ultimately turned the singing voice into a discursive and practical tool for creating "civilized" political subjects.
Peritz's new book project, provisionally titled Histories Out of Time, delves into the ways in which history was written, performed, imagined, and felt through musical performance in the half-century before the Enlightenment. Her study centers on Metastasian opera seria, the preeminent musical and theatrical genre through which history was re-presented in eighteenth-century Europe, reading its widespread performance culture as a cycle of presence and disappearance that self-reflexively dramatized the instability of "history." Taking up different modes of historiography, from ancient history to natural history to spectral history and beyond, the book considers how historical narratives inflect material bodies, how bodily performances render pasts sense-able as temporal experience, and how music makes history.
Peritz's work has been published in the Journal of the American Musicological Society, the Cambridge Opera Journal, and the Journal of Musicology. Her research and writing have been supported by the Alvin H. Johnson-American Musicological Society 50 fellowship (2018), two Gladys Krieble Delmas Foundation research grants (2016, 2019), and the Rome Prize from the American Academy in Rome, where she was the Marian and Andrew Heiskell Pre-Doctoral Fellow in Modern Italian Studies in 2017–18. In 2018–19, she was a (non-resident) Dissertation Fellow at the Andrew W. Mellon-Council for European Studies at Columbia University, and an Affiliated Fellow at the Franke Institute for the Humanities at The University of Chicago. Among other awards, Peritz has received the the Indiana University Press Prize from the American Musicological Society Midwest Chapter (2014), the Paul A. Pisk Prize (2018) from the American Musicological Society, and the Aldo and Jeanne Scaglione Award in Italian Literary Studies from the Modern Language Association (2023).
She received her Ph.D. in music history from The University of Chicago in summer 2019, and joined the Yale Department of Music in fall 2019. She also holds an A.B. in early modern history and literature from Harvard and an M.Mus. in vocal performance from Mannes College The New School for Music.
Publications:
The Lyric Myth of Voice: Civilizing Song in Enlightenment Italy. University of California Press, 2022.
"The Castrato Remains—or, Galvanizing the Corpse of Musical Style." Journal of Musicology 39, no. 3 (Summer 2022): 371–403.
"The Female Sublime: Domesticating Luigia Todi's Voice." Journal of the American Musicological Society 74, no. 2 (Summer 2021): 235–288.
"Orpheus's Civilising Song, or, The Politics of Voice in Late Enlightenment Italy." Cambridge Opera Journal 31, nos. 2–3 (Summer 2019 [2020]): 129–152.
Appointment:
Graduate faculty
Undergraduate faculty