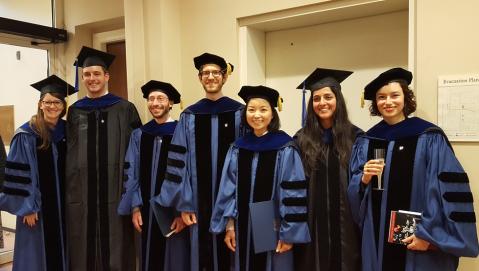 As a unit of the Graduate School of Arts and Sciences, the Department of Music offers Ph.D. degrees in Music History, Music Theory, and Ethnomusicology. The graduate program has traditionally prepared its students for careers as scholars and teachers in colleges and universities. Some graduates have successfully pursued professional work in music criticism, publishing, music librarianship, and the recording industry.
Students interested in graduate degrees in performance, composition, or conducting should direct their inquiries to the Yale School of Music.
A minimum of five years is needed to complete the requirements for the Ph.D. degree; many students take six. Currently, the main requirements are:
Fourteen seminars or courses, spread over the first two years of residency.
Proficiency in two foreign languages, one of which must be German and the other typically either French or Italian.
Qualifying Examination at the beginning of the third year.
Dissertation.
For a more complete description of our program and requirements, please download the Graduate Student Handbook.
Students enrolled in the Ph.D. program qualify for the M.A. degree "en route" upon the successful completion of seven courses, at least six of which are seminars given in the Department, along with passing an examination in one foreign language. An M. Phil degree is obtained upon the passing of all of the departmental requirements short of the dissertation itself.
Six to eight students, divided between history, theory, and ethnomusicology, are normally admitted to the graduate program each year, and classes and seminars are of limited size, usually having fewer than twelve students enrolled. Proseminars in Musicology, Music Theory, and Ethnomusicology, as well as courses in the History of Music Theory from the Middle Ages to the 20th Century, are mandatory. Other recent seminars have addressed Medieval through 20th-Century Music, Baroque Travels, Opera and Multimedia, Source Studies, Auditory Culture, Sonata Theory, Studies of Tonal Music, 20th-Century Theory and Analysis, Meter, Corpus Studies, African and African-American Music, Jazz, Western and non-Western Popular Music, and Current Methodologies (including phenomenology, psychoanalysis, and the history of technology).
The Department also offers a special, one-year program leading to the degree of Master of Arts, suitable for students wishing to augment previous graduate study, to study further in such disciplines as music history, theory, or librarianship, or to prepare for non-academic careers in journalistic criticism, curatorship, or arts administration. Students in this program must pass eight term courses, complete a special project, and pass an examination in one foreign language. Unlike the Ph.D. program, Yale does not provide financial support for students in the one-year Master of Arts program.