Yale University and the New Haven area provide a rich and diverse musical life.  While the majority of performance offerings focus on Classical repertoire – ranging from medieval to the most current compositions – opportunities also exist in the areas of folk, jazz, music technology, musical theater, pop and world music. Visit Our Showcase: Audio and Video to hear the creative work and performances of our students and faculty.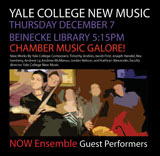 Students of the Department of Music – graduate and undergraduate, music major and non-music major alike – are invited to participate in a myriad of performance courses, large and small musical ensembles, theatrical musical productions and varied projects throughout the university.  Yale sponsors many faculty- and student-led musical ensembles and organizations, all of which are not for credit.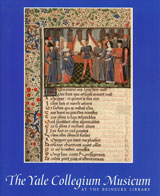 Faculty-led instrumental ensembles and organizations include: the Yale Bands, Yale College New Music, the Yale Collegium Players, the Yale Javanese Ensemble – Gamelan Suprabanggo, and the Yale Symphony Orchestra. Faculty-led vocal ensembles and organizations include: the Yale Camerata, the Yale Collegium Musicum, the Yale Glee Club, and the Yale Schola Cantorum.  Student-led instrumental ensembles and organizations include: the Berkeley College Orchestra, the Davenport Pops Orchestra, and the Yale Saybrook Orchestra. Student-led vocal ensembles and organizations include: various a cappella singing groups, the Battell Chapel Choir, and the Opera Theater of Yale College.
Ad hoc performance opportunities present themselves throughout the school year: student compositions, student recitals, chamber music groups, musicals, operas, and orchestras for opera, operetta and musical theater.  Notices of auditions and opportunities appear regularly on bulletin boards and on the Department of Music's Current Announcements, and both undergraduate and graduate students may audition, though audition policies vary from ensemble to ensemble.
Because of its close proximity to the Yale School of Music, where approximately 200 performers of exceptional skill pursue advanced degrees in music, students of the Department of Music are able to benefit from world-class concerts, master classes, and operatic productions, and are inspired by daily interactions with members of the School of Music.  New Haven's rich musical resources, such as the New Haven Symphony Orchestra, the Neighborhood Music School and many fine church music programs, are also available to students of the Department of Music.
Additionally, the Department of Music offers a number of performance courses for credit.  The "220" performance course series, initiated in 1994, currently consists of a number of courses each semester:
MUSI 220/221 The Performance of Chamber Music I and II
MUSI 222 The Performance of Vocal Music
MUSI 225 Sacred Harp and American Hymnody
MUSI 228/229 Performing and Directing Musical Theatre I and II
MUSI 232 Javanese Gamelan
MUSI 238 Contemporary Chamber Music Performance
MUSI 240 The Performance of Early Music
Students hoping to enroll in the performance courses – as well as students auditioning for individual instruction, Yale Bands, the Yale Glee Club, or the Yale Symphony Orchestra – should arrive in September with two pieces ready for auditions.  It is best, but not required, if these two pieces are memorized.  Singers should have music for accompanists, who will be provided at the auditions.  Students may sign up for auditions at the Department of Music during the first two days of the semester.