Please support and share in the harmony!
Please consider a generous gift of musical friendship in one of the following categories:
General: $35 and above
Contributing: $75 and above
Sustaining: $150 and above
Sponsor: $300 and above
Patron: $750 and above
Benefactor: $1,500 and above
Did you know? You may now donate to Friends of Music online! And it's simple. Just go to Yale's Development Office at: https://yale.imodules.com/s/1667/giving/17/landing.aspx?sid=1667&gid=52
In order for your generous gift to reach the Friends of Music, enter the following info:
·         Under "Make a Gift" select "Support Other Areas at Yale." Then select "Other" on the next page.
·         My Gift Box - Enter your specific gift amount
·         Where would you like to designate your gift? - Select "Other"
·         Please specify what you would like to support - Type "The Friends of Music at Yale"
·         Please select Type of Gift - "One-time gift," "New pledge," OR "Recurring gift."
·         Then scroll down to follow the online directions and fill out additional pertinent information to complete your generous donation to The Friends of Music at Yale!
Please see the screen shot below for an example of how the website looks: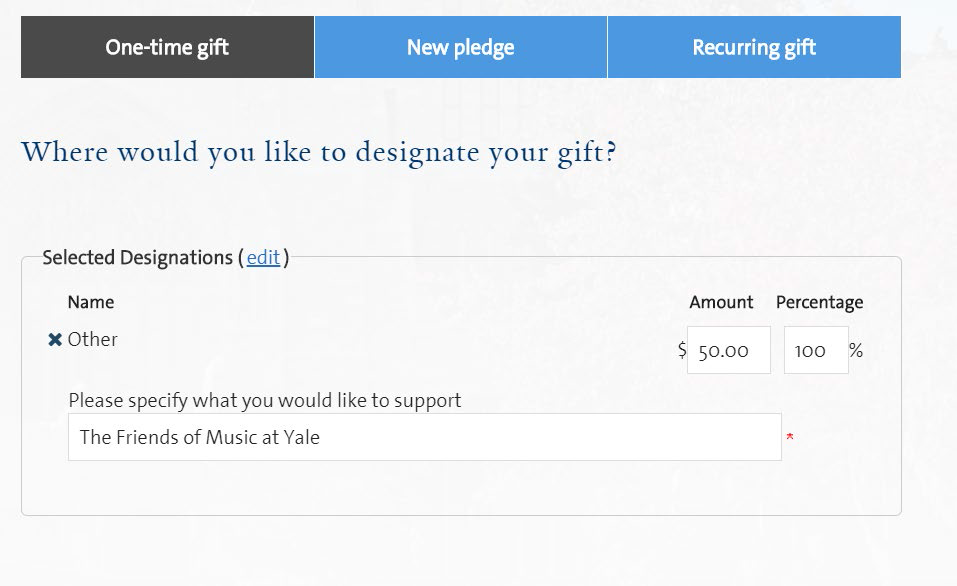 To make a gift by mail, please click here for The Friends of Music donation form, and mail to:
Friends of Music at Yale
c/o Music Department
PO Box 208310
New Haven, CT 06520-2985