Virginia Dellenbaugh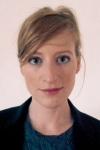 Ginger Dellenbaugh (music history) holds a B.Mus. in Vocal Performance from Vanderbilt University and an M.A. in Liberal Studies from The New School for Social Research.
Ginger was a Fulbright recipient in Vienna were she researched and performed music of the Second Viennese School. She has been active as a musician in Europe and the United States for over a decade with performances in Austria, France and Italy. Her writing has appeared in, among others, Oxford American and The Journal for Interdisciplinary Voice Studies as well as in publications by Springer-Verlag, Kerber and JRP/Ringier.
In the past several years, Ginger has organized conferences on the phenomenon of conversion and disenchantment, the theater impresario Erwin Piscator, and theories of vocal manipulation and mediation. From 2014 to 2017, she was a member of the music faculty of Eugene Lang College at The New School in New York, where she taught about music, politics, and the cultural history of the voice.
Her most recent talks include "Sonic Resistance – Hanns Eisler und Musik als politisches Werkzeug" at Kunsthaus Bregenz, Austria, "Hystri-sonic: Music and the Political Struggle over Reproductive Rights" at EMP, Seattle WA, and "25 Minutes to Go: Voices of the Disciplined and Punished" at MoPop 2019.