Philippa Ovenden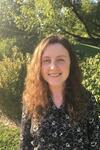 Originally from the Orkney Islands in Scotland, Philippa Ovenden is a PhD candidate in music history. Her dissertation, "Representations of Time in Late-Medieval Music" (supervised by Anna Zayaruznaya) considers the conceptual underpinnings of some of the complex notational systems that arose in the fourteenth and fifteenth centuries. She has prepared the first English translation and detailed study of 
The Book on Music
 by the Italian music theorist and Neoplatonist mystic Johannes Vetulus de Anagnia. Her research has recently been published in the interdisciplinary volume 
Atomism in Philosophy: A History from Antiquity to the Present
, edited by Ugo Zilioli.
Philippa is an active participant in musical life at Yale. Since 2019 she has served as co-organizer of the Yale Medieval Song Lab, and has coached student recorder players in the Yale Collegium musicum since 2016.
Before moving to the United States, Philippa received an MMus from King's College London (with distinction). As an undergraduate she studied at the Royal Academy of Music in London (RAM) and the University of the Arts in Berlin, graduating from the RAM in 2013 with the Roy Burcher Prize for highest ranking final recital in historical performance.