Matthew Mendez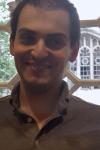 Matthew Mendez (2016) is a Ph.D. student in music history. He holds an A.B. in music from Harvard University, and also earned Masters degrees (with distinction) from the University of Edinburgh and the Guildhall School of Music & Drama. At Harvard, Matt won the school's Bowdoin Prize, awarded annually for an essay of high literary merit. He has also been the recipient of an ASCAP Foundation Deems Taylor/Virgil Thomson Award for outstanding writing on music.
Matt's dissertation project is a media genealogy and historical epistemology of the information-theoretic voice: framing the coalescence of new musical, legalistic, and identitarian ontologies as a reaction to the exteriorization and algorithmization of the human voice over the long twentieth century, the dissertation chronicles the gradual breakdown of those same ontologies in the face of the new regimes of truth operationalized by the informational voice. More broadly, Matt is committed to bringing methodological perspectives from media theory, archaeology, and ecology, from the study of cultural techniques, and from Science Studies to bear robustly on post-1945 experimental sonic repertoires. Secondary research interests include psychoanalytic discourse and the material-semiotic transculturation of musical genre and expressive culture in the circum-Atlantic Spanish-speaking world over the longue durée.
Matt has previously published book chapters and journal articles on such topics as Julius Eastman, the postwar reception of Erik Satie, and Jean-François Lyotard's musical writings. He also works as a public musicologist, and having been the Publications Fellow at the Tanglewood Music Center for the summer of 2014, he remains active as a liner note and program annotator. Current projects include articles on the epistemology of space in Varèse and Dufourt, and futurological campanology.