Maho Ishiguro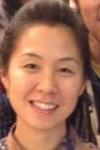 Address:
287 Music Studios, Wesleyan Univ. Middletown, CT 06459
Specializations: Central Javanese Gamelan; Central Javanese Dance; Acehnese Saman Dance; Gender Studies; and Islam and Muslim Culture.
About:
Maho Ishiguro studied piano, music history and music theory at Colgate University (2000-2004) and went on to earn an M.A. in historical musicology at University of Massachusetts Amherst (2008-2010). While at UMass Amherst, she encountered Javanese Gamelan Ensemble, and began her journey as a gamelan student of Sumarsam and Margaret Sarkissian at Smith College in 2009. After finishing her musicology degree, she moved onto study ethnomusicology with a focus on Central Javanese Gamelan at Wesleyan University. Since starting at Wesleyan, she has made many trips to Indonesia where she studied music and language and has done fieldwork.  She has appeared in a number of performances in the New England area, including those at Smith College, Tufts University, Brown University and New York City's Kusuma Laras.  Her recent presentations focused mainly on an analytical approach to performing Javanese gamelan as well as dance tradition of Aceh, Sumatra. While at Wesleyan, she also studied dance traditions of Java as well as South India.  Currently she is pursuing her Ph.D. at Wesleyan; her dissertation research topic is about popularization of Acehnese Saman dance among high school female students in Indonesia and the influence of Islam on music and dance traditions in Southeast Asia today.