Maho Ishiguro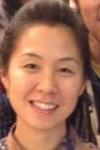 Address:
287 Music Studios, Wesleyan Univ. Middletown, CT 06459
Specializations: Ethnomusicology; music and dance of Indonesia (Java and Aceh) and South India; impact of Islamization on performing arts; women's performing arts in Muslim society; Central Javanese gamelan and dance performance practice; popular art cultures of Southeast Asia; ethnography and film documentation; performance art tour and management; music analysis of world music.
About: Currently a lecture of Music at Yale University and the director of Central Javanese gamelan Ensemble at Smith College (Northampton, Mass), Maho holds a Ph.D. and M.A. in Ethnomusicology from Wesleyan University (2010-2018) and M.A. in Historical Musicology from the University of Massachusetts Amherst (2007-2009). A long time student of Sumarsam, a prominent Indonesian ethnomusicologist, and I.M. Harjito, master of central Javanese Gamelan, Maho regularly performs with gamelan ensemble groups at Wesleyan University, Tufts University, Gamelan Kusumo Laras at Indonesian Consulate in New York.
For her recent research, Maho has received several prestigious awards and fellowships, including Fulbright- Hays DDRA (the U.S. Department of Education), grants from Society of Asian Music, FLAS (Foreign language and Area Study) Fellowship (the U.S. Department of Education), Critical Language Studies (the U.S. Department of State) and the Nadia and Nicholas Nahumck Fellowship from Society of Ethnomusicology. Currently (2019/2020), she is an AIFIS-Luce Fellow at Cornell University. Her current research focuses on how Acehnese and Javanese performing arts practitioners negotiate and navigate through the current socio-cultural and religious climate in Indonesia.
At the undergraduate level, Maho teaches two courses at Yale: Music 232 (Yale Central Javanese Gamelan Ensemble) and Music 233 (Cultures and Performing Arts of Indonesia). Both classes focus on performance practice of Central Javanese Gamelan and cultural studies of Indonesia, with a particular attention to music, dance and theatre practices in the royal courts and villages. Maho is a strong believer in a pedagogical technique which employs both intellectual engagement and practice experience in performing arts.
Selected Publications:
" Present Day Pangrawit," co-authored with Darsono Hadiraharjo. A chapter entry in Sounding Indonesia: the State of Indonesian Music [Cornell University, forthcoming, 2019].
"Gifts from the waves: The Rise of Cultural Appreciation, Sharia Law and Women's Roles in Performing Arts in Post-Tsunami Aceh." [Asian Music Journal Vol. 50, No.2, forthcoming, 2019].
"Ratoeh Jaroe in Jakarta: A New Dance from Aceh Captures the Hearts of Thousands of Today's Jakartan Youth." [Under review, Yearbook for Traditional Music]
"Malay Theatre: Intangible Cultural Heritage And Islam: Wayang Kulit Kelantan and Mak Yong and Tradition In Transition: Intangible Heritage In South And Southeast Asia." Asian Theatre Journal 36, no. 1 (Spring 2018). A review for an exhibition by Kathy Foley And Patricia Hardwick (curators).
Entries Commissioned for A Historical Dictionary of Sacred Music (Rev. expanded ed.) by Joseph P. Swain.  (Lanham, MD: Rowman & Littlefield, 2016).[Entries include: Bedhaya, Ginan, Maddha, Majles, Rateb meuseukat, Rapa'i, Saman, Sekaten, Seudati, Shalawat, Takbiran, Topeng dalang, Wayang kulit.]