Holly Chung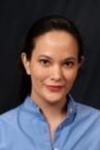 Holly Chung is a Ph.D. candidate in music history. Her research interests center on French music of the nineteenth and twentieth centuries, particularly the music of Ravel and Debussy. Her dissertation explores Ravel's career around 1910, investigating connections between the composer's aesthetic decisions and Henri Bergson's contemporaneous philosophy of time. Apart from her dissertation work, she is interested in exploring questions of musical shape and form, projections of the "exotic" and "oriental," and the work of women composers and teachers in this period.
She studied piano in the Preparatory Division at the San Francisco Conservatory of Music under Tomoko Hagiwara and continues her performance studies at Yale. She holds the degree of Bachelor of Arts, magna cum laude, in Music and French and Francophone Studies from Columbia University. Her senior thesis, written under the direction of Prof. Walter Frisch, explored cyclic procedures in Ravel's String Quartet. She has also completed graduate work at McGill University, where she served as a teaching assistant for the undergraduate music history survey, a research assistant to Profs. Steven Huebner and Heidi Epstein, and the resident program annotator.
She was a 2014 recipient of the Mellon Concentration Fellowship, which provided for interdisciplinary study on the theme "Circa 1900." In Spring 2018, she received a research grant from the Beinecke Rare Books Library to examine Ravel's correspondence and study his participation in collaborative artistic networks.