Henry Parkes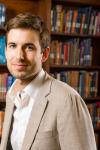 Assoc Prof Inst of Sacred Music and Music Dept and Divinity Sch
Address:
409 Prospect St, New Haven, CT 06511-2167
Specializations: Western European music ca. 900-1100; Gregorian chant and early polyphony; church history; liturgy and liturgical commentary; manuscript studies; hagiography; sacred music through to the present day.
About:
Henry Parkes is a graduate of the University of Oxford (BA Hons. in Music, 2007) and of the University of Cambridge (MPhil in Musicology, 2008; PhD in Musicology, 2012). Prior to coming to Yale in 2014, he was a postdoctoral research fellow at Gonville and Caius College, Cambridge, during which time he also served as a visiting lecturer at the University of Cambridge and at Royal Holloway, University of London.
Parkes is a specialist in the musical cultures of the medieval Christian church, above all in Germany and England in the period 900-1100. Straddling the fields of musicology, medieval history, and liturgics, his publications to date have dealt with Gregorian chant, musical creativity, hagiography and saint worship, the Divine Office, episcopal liturgy, identity formation, institutional reform, and church politics. He also has an ongoing interest in performance custom and the experiential dimensions of medieval worship.
His first book, The Making of Liturgy in the Ottonian Church (Cambridge University Press, 2015), explored the processes through which medieval liturgy was codified, with important implications for our understanding of early liturgical and musical texts and their incipient typologies. Central to this study was a revisionist account of the celebrated but long misunderstood Romano-German Pontifical, a monumental encylcopedia of liturgical wisdom now thought to have been produced in Germany in the early eleventh century.
In his current research Parkes is exploring the notion of auctoritas in Western European liturgy from the Carolingians to the Cistercians, with a focus on the developing concept of 'Gregorian' chant. Forthcoming is an edition of the collected liturgical commentaries of Bern of Reichenau, an eleventh-century intellectual and music theorist who was himself invested in these matters. Parkes was recently awarded a Fellowship from the Alexander von Humboldt Foundation to support research at the Monumenta Germaniae Historica in Munich and the Institut für Musikforschung at the University of Würzburg.
Aside from academia, Parkes holds an FRCO diploma in organ, and has held organist positions at a number of the UK's leading Anglican choral foundations; until his move to Yale he regularly shared the concert platform with the London Philharmonic Orchestra.
Publications
'Henry II, Liturgical Patronage, and the Birth of the "Romano-German Pontifical"', Early Medieval Europe, forthcoming
'Theology and Teleology in the Festal Night Office: What Performance Directions Reveal About the Design and Experience of Historiae', in David Hiley (ed.), Historiae (forthcoming)
'Towards a Definition of the "Romano-German Pontifical" and Back', in Andrew Irving and Reinhard Meßner (eds.), Typologie liturgischer Bücher (forthcoming)
'Musical Portraits of St Guthlac', in Alan Thacker and Jane Roberts (eds.), Guthlac of Crowland: Celebrating 1300 Years (forthcoming)
'Behind Hartker's Antiphoner: Neglected Fragments of the Earliest Sankt Gallen Tonary', Early Music History 37 (2018)
'Wild Strawberries from Reichenau: Ruminations on Authority and Difference in Eleventh-Century "Gregorian" Chant', Journal of the American Musicological Society 70 (2017), 1–60
'Cantor or Canonicus? In Search of Musicians and Liturgists from Late Eleventh-Century Constance', in Katie Ann-Marie Bugyis, A. B. Kraebel, and Margot E. Fassler (eds.), Medieval Cantors and their Craft: Music, Liturgy and the Shaping of History, 800–1500 (York: York Medieval Press, 2017), 103–24
Review of Jesse D. Billett, The Divine Office in Anglo-Saxon England, 597–c.1000, HBS Subsidia 7 (London: Henry Bradshaw Society, 2014). Early Medieval Europe 25 (2017), 117–19.
'Troping in Mainz and the (Re-)Construction of Metropolitan Identity', in Fabian Kolb (ed.), Mainz und der Mittelalterlichen Metropole: Räume, Identitäten und Kontexte der Musik in Köln und Mainz, ca. 900–1400, Beiträge zur Rheinischen Musikgeschichte 179 (Kassel: Merseburger, 2016), 125–137
The Making of Liturgy in the Ottonian Church: Books, Music and Ritual in Mainz 950-1050, Cambridge Studies in Medieval Life and Thought 100 (Cambridge: CUP, 2015)
'Biblical Readings for the Night Office in Eleventh-Century Germany: Reconciling Theory and Practice' in Jinty Nelson and Damien Kempf (eds), Reading the Bible in the Middle Ages (London: Bloomsbury, 2015), 77–100
'Questioning the Authority of Vogel and Elze's Pontificale Romano-Germanique' in Helen Gittos and Sarah Hamilton (eds), Understanding Medieval Liturgy: Essays in Interpretation (Aldershot: Ashgate, 2015), 75–101
'St Edmund Between Liturgy and Hagiography', in Tom Licence (ed.), Bury St Edmunds and the Norman Conquest (Woodbridge: Boydell and Brewer, 2014), 131–59
'The Composition of English Saints' Offices in the Tenth and Eleventh Centuries', in Barbara Haagh-Huglo and Debra Lacoste (eds.), Papers Read at the 15th Meeting of IMS Study Group Cantus Planus, Dobogókö/Hungary, 2009. Aug. 23-29., 3 vols (Lions Bay, BC, 2013), vol. III, 629–47
Appointment:
Graduate faculty
Undergraduate faculty