Clifton Boyd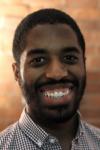 Clifton Boyd (2016) is a Ph.D. candidate in music theory and Dean's Emerging Scholars Fellow. Originally from West Bloomfield, MI, he holds an M.M. in music theory from the Jacobs School of Music at Indiana University and a B.M. in viola performance and music theory from the University of Michigan. His dissertation, provisionally titled "The Role of Vernacular Music Theory in the Institution of Barbershop Music," investigates the role of music theory in the social culture of American vernacular musical communities, with a focus on racial and gender discrimination. Drawing primarily upon the history of the Barbershop Harmony Society, from its founding in 1938 to its contemporary "Everyone in Harmony" diversity initiative, his research explores how communities leverage musical style in processes of institution building. This research has been supported by the Margery Lowens Dissertation Research Fellowship from the Society for American Music and the Howard Mayer Brown Fellowship from the American Musicological Society. Other research interests include minimalism, form in nineteenth-century chamber music, musical meter, and Italian popular music. He has presented at the annual meetings of the Society for Music Theory, the American Musicological Society, and the Society for American Music.
In addition to his academic pursuits, Clifton is a staunch advocate for diversity in music academia: he is the founder of Project Spectrum, a graduate student-led coalition supported by affiliate members (faculty members, independent scholars, and non-academic music professionals), committed to advancing diversity in music theory, musicology, and ethnomusicology. As chair (2017–19), he oversaw the organization of the 2018 national symposium Diversifying Music Academia: Strengthening the Pipeline. In July 2020, he delivered a paper as part of Project Spectrum's keynote address at the Music Theory Society for New York State annual meeting. For his work with Project Spectrum, he is twice a recipient of the Sphinx Organization's MPower Artist Grant. He was also a fellow for Yale's Office for Graduate Student Development and Diversity (2018–20), and currently serves on the Society for Music Theory's Committee on Race and Ethnicity. His writing on diversity in academia has been featured in Inside Higher Ed.
In his free time, Clifton enjoys listening to comedy podcasts.