Clifton Boyd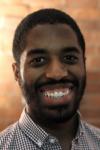 Clifton Boyd (2016) is a Ph.D. candidate in music theory and Dean's Emerging Scholars Fellow. Originally from West Bloomfield, MI, he holds an M.M. in music theory from the Jacobs School of Music at Indiana University and a B.M. in viola performance and music theory from the University of Michigan. His dissertation, tentatively titled "The Role of Vernacular Music Theory in the Institution of Barbershop Music," connects the field of music theory with American vernacular musical communities, with a particular focus on diversity and inclusivity along the lines of race and gender. Other research interests include minimalism, form in nineteenth-century chamber music, musical meter, and Italian popular music. He has presented (or has upcoming presentations) at the annual meetings of the Society for Music Theory, the American Musicological Society, the Society for American Music, and Music Theory Midwest.
In addition to his academic pursuits, Clifton is a staunch advocate for diversity in music academia: he is founder and committee member of Project Spectrum (projectspectrummusic.com), a coalition of graduate students and faculty members that went on to organize the 2018 national symposium "Diversifying Music Academia: Strengthening the Pipeline." For his work with Project Spectrum, he is a recipient of the Sphinx Organization's MPower Artist Grant. He is also a fellow for Yale's Office for Graduate Student Development and Diversity, and currently serves on the Society for Music Theory's Committee on Diversity.
In his free time, Clifton enjoys listening to comedy podcasts.