Michael Friedmann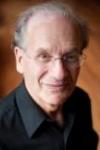 Prof (Adj) Sch of Music and Music Dept
Address:
469 College St, New Haven, CT 06511-6609
203-432-1960, 203-432-7746
Specializations: relating analysis to performance, piano performance (special foci on the music of Schoenberg, Schumann and Beethoven), analysis of post-tonal music, ear training, chamber music coaching, model composition.
About: Michael Friedmann's career has encompassed activities as a theorist, pianist, pedagogue and composer. His specialties involve analytical articles about the music of Schoenberg and performances of that composer's complete piano music.  He has evolved a method in teaching ear training especially focused on 20th-century music, and wrote a book (Ear Training for 20th-century Music, published by Yale University Press) which received special recognition from the Society of Music Theory.
In addition to Schoenberg, his piano performances have focused on late Beethoven and Schubert. His teaching specialties have included classes relating the analysis of Brahms' and Schumann's chamber music to their performance. In addition to his teaching at Yale, Friedmann has recently taught at Beijing University and at that city's Central Conservatory of Music, and has lectured and performed at the Beijing Modern Music Festival.
Selected publications and performances:
1985 "A Methodology for the Discussion of Contour", Journal of Music Theory , Fall 1985, pp. 243-248
1990 Ear Training for 20th Century Music Yale University Press (2nd printing 1995)1991 Amherst College: Two Lecture-Recitals: A Guided Tour to Schoenberg's Piano Music (complete)
1995 "Schoenberg's Waltz, op. 23/5: Multiple Mappings in Form and Row", Theory and Practice, Vol. 17
2002 Yale University, Beethoven's "Diabelli Variations"
2003 Virginia Commonwealth University: Vocal performance and lecture: Schoenberg's Ode to Napoleon: A Cast of Characters
Liner notes for Colorado Qts. recording of Beethoven op. 18 Recital Collaborations with violinist Yeon-su Kim in Gettysburg College, Hong Kong's Academy of Performing Arts and most recently in NYC's Zankel Hall Public addresses:
1) Pre-concert talks for the Tokyo Quartet's concerts at NYC's 92nd Street Y
2) Chinese University of Hong Kong-"Purposes of Analysis-Schoenberg's op. 23
2011 Cornell University, Performance and lecture surrounding Schoenberg's Five Piano Pieces, op. 23